Most important reason as to why I didn't club this episode with the last one is because this episode is about Harvey and Sabrina's first kiss.
It's valentine's day and Aunt Zelda gets a chocolate delivery from the mailman. Hilda keeps tasting them. When Sabrina goes to school, she and Harvey, exchange messages for the valentine eve (love is in the air).
Just to be clear: Sabrina and Harvey have admitted that they like each other but anything hasn't happened between the two of them officially.
Harvey keeps trying to kiss Sabrina. Though she wants it, she can't have it. When a witch first kisses a mortal, he turns into a frog. I love that one. Aunt Hilda tries to encourage Sabrina by saying that she went through high school without it (And in my head, I remarked: see where that got you).
Though Sabrina being half mortal, has a 50 % chance of turning Harvey into a frog. She keeps flipping a coin to determine the result. Unable to decide, she takes a chance and Harvey turns into a frog.
It so happens, if the man is Sabrina's true love, he can be turned back. There so happens to be a clinic which gives you a test to determine that and comically, the forever mean, Drell, Hilda's ex boyfriend conduct the test. It happens to be behind three doors.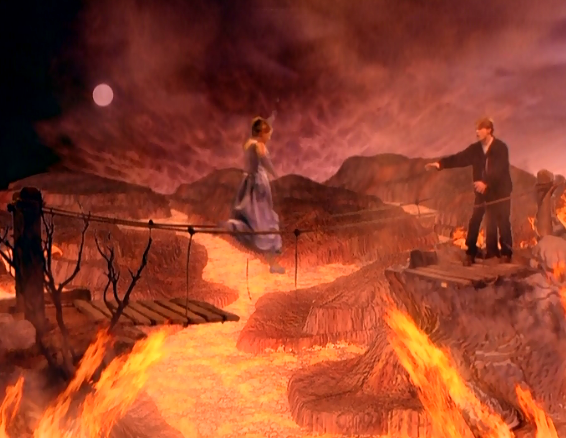 Door 1: Choose the right Harvey between the three.
Door 2: Resist temptation
Door 3: (if you loose, you turn to a frog and he turns to a man) She has to reach to him through hardships.
She passes and now has to return to the scene of the kiss and the Harvey Frog to turn him back to human.
The side story is that of Hilda trying to make up with Drell. They wonder if their old flame is still burning (it is a literal flame and yes, it is burning).
Hilda takes the test too and fails the first one while being stuck in the second one with a hottie by the pool.
Sabrina: The Teenage Witch (Episode 16)